Epoxy and Urethane Solutions Best for Greenhouses and Grow Rooms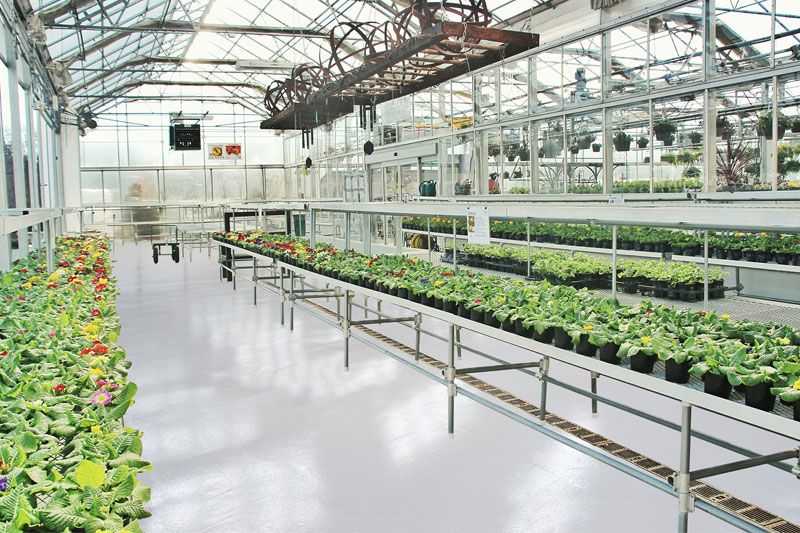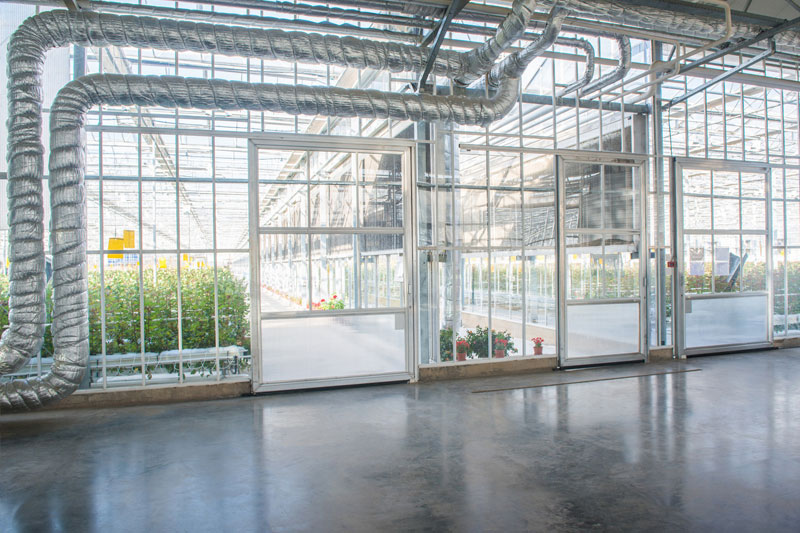 Greenhouse Cannabis Flooring – Epoxy and urethane coatings are ideal for greenhouse and cannabis concrete floors.  When applied properly, these coatings will help maintain optimal safety and sanitary standards while improving overall production. Diamond Rock installs epoxy and urethane flooring systems for new and existing greenhouse and cannabis facilities in Leamington and other Ontario locations.
The Problem With Bare Concrete Floors
Bare concrete floors are porous which results in liquids and other particles seeping into the pores leading to the growth of bacteria and other pathogens.  When products become contaminated, production will need to stop and products may need to be recalled until the problem is resolved.  This can very expensive and time consuming.
Bare concrete is also damp due to mosture within the concrete that rises to the surface.  When unprotected items are placed on top of moisture they can be damaged.
Bare concrete can be slippery when wet as there is no texture to prevent slip and fall accidents.
Bare concrete reflects very little light making the room dark, often resulting in the need for extra lighting to properly grow cannabis.
The Benefits of Greenhouse & Cannabis Floor Coatings
An epoxy or urethane flooring system installed by Diamond Rock Concrete, can create optimal production growth for your greenhouse or cannabis facility and save you from unforeseen problems and unexpected costs.
Consumer Safety
Epoxy and urethane flooring solutions provide a clean, healthy environment in which to grow food crops. Health Canada (HC) inspections demand that growing facilities maintain optimal levels of cleanliness, humidity, light, and temperature. Without these elements, you may have difficulty growing healthy plants in addition to meeting the CFIA standards.
The surface technology of epoxy flooring makes maintenance and cleanliness easier than ever. Epoxy flooring is a seamless, non-porous surface that helps to prevent growth of bacteria, fungus, and buildup of dirt and other contaminants. In addition, the concrete coating is odour and emissions free resulting in a safe, non-toxic environment that will not adversely affect plants or employees.
Employee Safety
The quality and safety of fruits, vegetables, and other crops isn't your only concern. Epoxy flooring solutions also provide a safe environment for your employees and greenhouse workers. Dirt, water, and chemicals such as fertilizers can all pose a threat to the safety of your workers. Epoxy flooring provides a smooth or textured surface that is slip-resistant and evenly leveled reducing the incidents of slip and fall accidents. Moisture resistance that prevents the growth of airborne contaminants results in an environment in which it is safer for your workers to breathe.
Flooring Safety Features:
Highly reflective surfaces increasing light distribution
Antimicrobial surfaces prevent contamination to both plants and humans
Seamless, non-porous surfaces that are easy to clean and maintain
Resistance to chemicals and extreme temperatures
CFIA and HC compliance standards
Moisture resistance prevents mould and bacterial growth
Slip-resistance to increase safety
If you are retrofitting an older facility, the manner in which epoxy and/or urethane is poured and applied can seal off cracks, gaps and crevices where pests and insects might otherwise infiltrate your facility. Epoxy and urethane concrete solutions create an air-tight and waterproof flooring system that protects your plants from flies, spiders, and mice in addition to other pests.
Epoxy and urethane flooring solutions can also be combined with radiant heating systems and insulation to create the perfect greenhouse or cannabis growing facility with optimal temperature, lighting, and humidity.
Service Area
Diamond Rock provides free evaluations for greenhouse and cannabis concrete flooring systems anywhere in Ontario. We also provide services to similar industries such as the food industry and warehousing.
Get A Free Quote