Optional Floor Coatings for the Food and Hospitality Industries
A concrete floor coating is a smart choice for the Food and Hospitality Industries. Not only is it a hygienic surface, it surpasses all of the rigorous safety compliance demands of local health officials.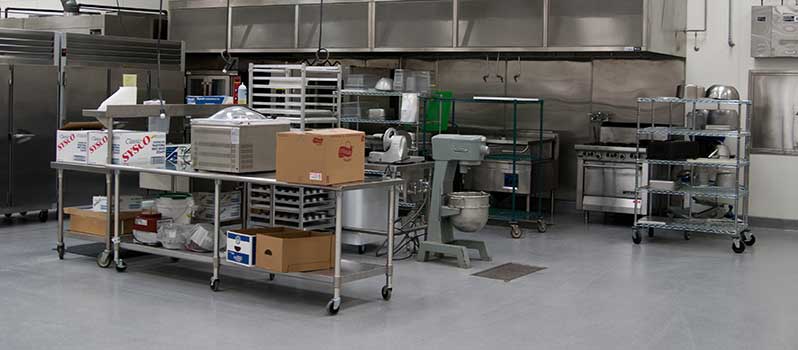 Our non-porous floor coating options are designed to endure food spills and aggressive wash-downs with harsh chemicals to kill bacterial contamination. For added health and safety, we can ensure your floors are slip resistant. Concrete flooring coatings are frequently used in cafeterias, restaurants, grocery stores, dry and cold storage rooms, canning and slaughtering areas. The epoxy and urethane finishes we apply are attractive, durable, and extremely cost effective lasting far longer than other types of flooring.
Benefits of Concrete Flooring
What to Expect
We will take your drab and damaged concrete floor and turn it into a beautiful work of art you and your guests will be proud of. Not only will your new concrete floor finish look amazing, it will be easy to clean due to its resistance to spills, including grease. It is also moisture resistant.
From the initial quote to job completion everything will be handled professionally. We use a dust free industrial grinder to prepare your concrete floor. The grinding head consists of diamond blades that lightly cut your floor's surface preparing it for maximum adhesion. During the process, old stains and coatings are removed before any materials and epoxy or urethane are applied. The products used on your floor are all non-toxic. As a result, your new flooring will be durable, waterproof, and chemically resistant. With little maintenance, it can also last you a lifetime.
For a FREE, no obligation quote on having an epoxy coating applied to your concrete floor, call us, or send us a quick email.
Service Area
Includes London, Stratford, Kitchener, Guelph, Cambridge, Hamilton, Brantford, Sarnia, Chatham, Windsor, and all the small municipalities in between.